I was in Times Square picking up some Mary Poppins tickets for when my friend Megan will be in town and trying to get Wicked tickets for graduation weekend (to no avail) ~  when I thought it would be fun to see a Broadway play tonight! Hairspray sells student tickets on weekdays so I went to the box office to see if I could get some. But, continuing my streak of bad luck there were no student tickets left. But, they did have some "lottery" tickets left for tonight's show! Our seats were in the orchestra – row A! Our faces were about 6 inches from the stage!
It was a great show! Even Bill liked it and he did not like the movie. It is fun to sit that close because you can see every little thing that the actors are doing – it is so exaggerated! George Wendt from Cheers played Edna Turnblad – it was great! At intermission they told Bill and I that we needed to put our bags under our seats b/c the cast would be using the space in front of us – remember that there were only 6 inches between us and the stage. One of the characters actually squeezed past us to get on the stage!
In other showbiz news: Bill has seen 4 tapings this week including: Gossip Girl, Confessions of a Shopaholic and Law & Order!

Tonight was one of the most exciting nights of my life! We went and saw Jennifer Garner in Cyrano on Broadway. She is my all time favorite!!! The play was good – a bit depressing but good. It also starred Kevin Kline and Daniel Sunjata.
After the play we went to stand near the stage door so I could at least get a glimpse of Jennifer Garner but I was hoping to get an autograph and picture! It was pouring down rain and everyone was crowding around with their umbrellas and I didn't think she would stop before getting into her car. But, she did! I got her autograph in my Playbill and her picture. (I didn't get my picture made with her but I might go back another night and try again!) Really, I kept saying "I" but it was all Bill. He had a rain jacket and got almost to the front of the railing to get the pictures and even got the autograph! He was soaking wet! What a great husband! Check out all of our picks! Jennifer Garner was everything I thought she would be! Now I really think that we would be great friends – if only we could meet! She was beautiful, nice, friendly and sweet! It was the little girl in front of us birthday and Jennifer was really sweet to her. It was really great! I'm really glad she wasn't a snob and didn't bust the image I have of her in my head. In other news – she was named as one of GLAMOUR's women of the year.
Daniel Sunjata was also really friendly – signing autographs and taking pictures. Kevin Kline didn't leave through the stage door – so I assume he's not too nice. But, he was a great actor in the play.
What a great experience! Such a fun night!

I didn't have time to pack my lunch this morning and the cafeteria was serving some kind of fish (just don't trust cafe fish!) so, I asked the elevator operator where I could get a good and cheap lunch. (By the way, have I told you that our elevator is manually operated?? It's pretty cool!) He told me to go to this place with a green front on 105th Street and Lexington. This is right in the middle of Spanish Harlem – just blocks from where I work. He said to ask for the $5 lunch special. So, I did. I came out with a huge plate of rice, a bowl of beans and huge chunck of chicken! It was a Dominican restaurant and it is so delicious!! I am sitting here enjoying it so much I thought I would write a blog about it.
So, I'm thinking that I really wish that when we went to the Dominican Republic they had served this kind of food!! So much better than what they did serve. The food they served was catered to the tourist – nothing authentic.
 Last night we went to see CURTAINS with the tickets I won. I figured that since they were FREE they would probably be in the very back somewhere. But, NO! They were in the third row of the orchestra! We were so close to the stage that we could see sweat dripping off  and spitting flying out of the actors! It was really great! David Hyde Pierce was close enough to touch at one point – but we refrained – didn't want to get arrested! The show was pretty good. It was a "murder comedey" and parts of it were a little cheesy but very entertaining! Afterwards we hung around the stage door for a few minutes but left because we had to work today. And we didn't have a camera or pen for an autograph. But I think we may go back some night to the stage door just to try and get a picture or something.

Tonight Bill and I were marveling at how settled and adjusted we are here. In just over two months our apartment is totally put together, decorated and functioning, we have jobs, a church and friends! When we moved to Nashville we didn't unpack a lot of our stuff, went to a different church every week for like 6 months and couldn't tell you our neighbors names. It probably helps that we only brought 1/4 of our stuff.
But, we are loving it here! This week we are going to see CURTAINS, the musical with the free tickets I won. I have my first major paper due this week but school is going great. My internship is good too. Bill loves his job! He enjoys g0ing to work each day so much that sometimes it is hard to get him to come home!

As everyone knows, Bill and Gayle came up to visit us this weekend! We had such a great time! The schedule was packed and we exhausted ourselves but loved every minute of it. Friday afternoon Bill and Gayle were waiting on the stoop when I got home. We ate lunch at our favorite pizza place then I took them on a tour of Columbia and then we went down to Macy's and the Empire State Building. Bill met us at the Empire State Building when he got off work. (By the way, he is absolutely loving his job!)
On Saturday our schedule was packed including: The TODAY show, NBC studios tour, Serendipity and 5th Avenue shops. Saturday night we saw the musical Mamma Mia. It was so good – funny with lots of great singing and dancing. It was very entertaining. Our seats were actually on the last two rows but they were great seats – were able to see everything going on. If this show comes your way it is a good choice to see!
Sunday was our "relaxed" day but it was still pretty exhausting! We started the day by going on a boat ride past Ellis Island and the Statute of Liberty. It was fun to be out on the water and get such a close view of the Statue. She is so big! You don't realize it until you see her that close. Afterwards we went to Greenwich Village and ate lunch at Peanut Butter and Company. Big Bill had a peanut butter and strawberry, Gayle had p.b and bread and butter pickles, Bill had Fluffernutter and I had cinnamon raisin p.b. with vanilla creme cheese and apple slices! Then we walked through SoHo and went to the Scholastic store. Sunday afternoon we went on a horse drawn carriage ride through Central Park. That was fun and relaxing! Sunday night we went out for Bill's birthday dinner at Ruth's Chris Steakhouse. It was so delicious – the best steak I have ever eaten! I want to go there for my birthday too!
We had such a good time and can't wait for more people to come and visit!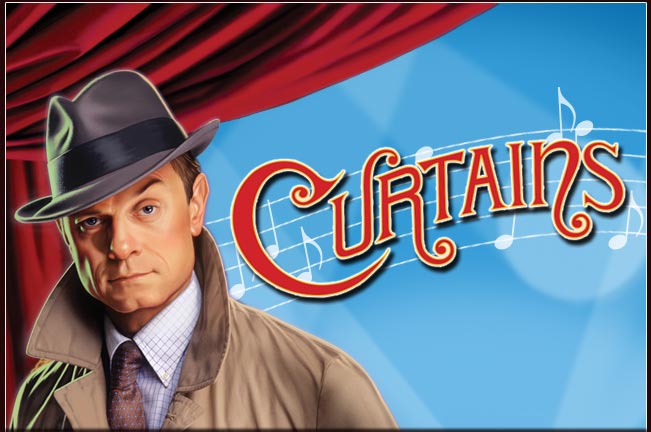 Is a phrase I can never say again! I have won something for the first time today! Several weeks ago Bill and I were at the Manhattan Mall browsing. At the information desk they had a box to enter and win tickets to the Broadway musical "Curtains" so I entered. Bill thought I was ridiculous but I thought – it's worth the try!
I had forgotten all about registering. But, today my cell phone rings at work and it is a 212 number and I think – who do I know in NYC that would be calling my cell phone? I answer and they tell me I won the tickets! How wild is that?
Just the other day I told Bill that I wanted to see this show. It a musical murder mystery – right up my alley!